Market drivers
External factors affecting us
An increasingly technology-driven environment generates opportunities for future business, but also imposes considerable demands on our capacity to keep pace with rapid development. Accordingly, we conduct ongoing business intelligence reviews at both the macro level, as well as in individual market niches.
Megatrends with opportunities
Increasing globalisation, a growing middle class and climate change – these are some of the major megatrends that are changing the conditions for both individuals and companies in different ways. For Addtech, it is primarily a matter of seeing the possibilities. Globalisation is changing trade patterns in ways that could benefit our customers. A growing middle class opens opportunities for customers working with both consumer goods and infrastructure investments, while climate change increases society's demand for long-term sustainable energy solutions. With our in-depth expertise in sustainable technology development, we have good prospects of identifying new business opportunities in helping customers meet external challenges and, for example, reducing negative effects on the climate and the environment. At the same time, our niche expertise means we have leading-edge knowledge in how this affects individual markets.
Changed market conditions
In the long-term, our market conditions are dependent on the development of industry and the services sector. In Northern Europe, relatively high costs have caused a shift towards increasingly specialised and automated industry and services. This has also contributed to the value chain being split up, trade increasing and industry growing increasingly dependent on external partners like Addtech.
The situation is becoming increasingly complex for suppliers too. Customers demand partners who will help them identify suitable technological solutions. Our range of market-leading products, expertise in technologies and markets, as well as our flexibility with regard to customisation make us an attractive partner. The increased external focus on sustainability also affects our market, with increased demand for services contributing to sustainable development.
Ongoing assessments
In a shorter-term perspective, Addtech's growth and profitability are closely linked to economic trends in industry and the economic situation in our markets. The fact that we also focus on infrastructure, as well as our large number of subsidiaries and their dispersion within narrow market niches, spreads our risks, increasing our stability and reducing our sensitivity to economic cycles. At the same time, we are also dependent on the situation of our customers' in terms of competition and the opportunities for success in their markets. We therefore conduct continuous evaluations of each market in which we operate, to ensure that the conditions prevail for achieving the Group's financial targets.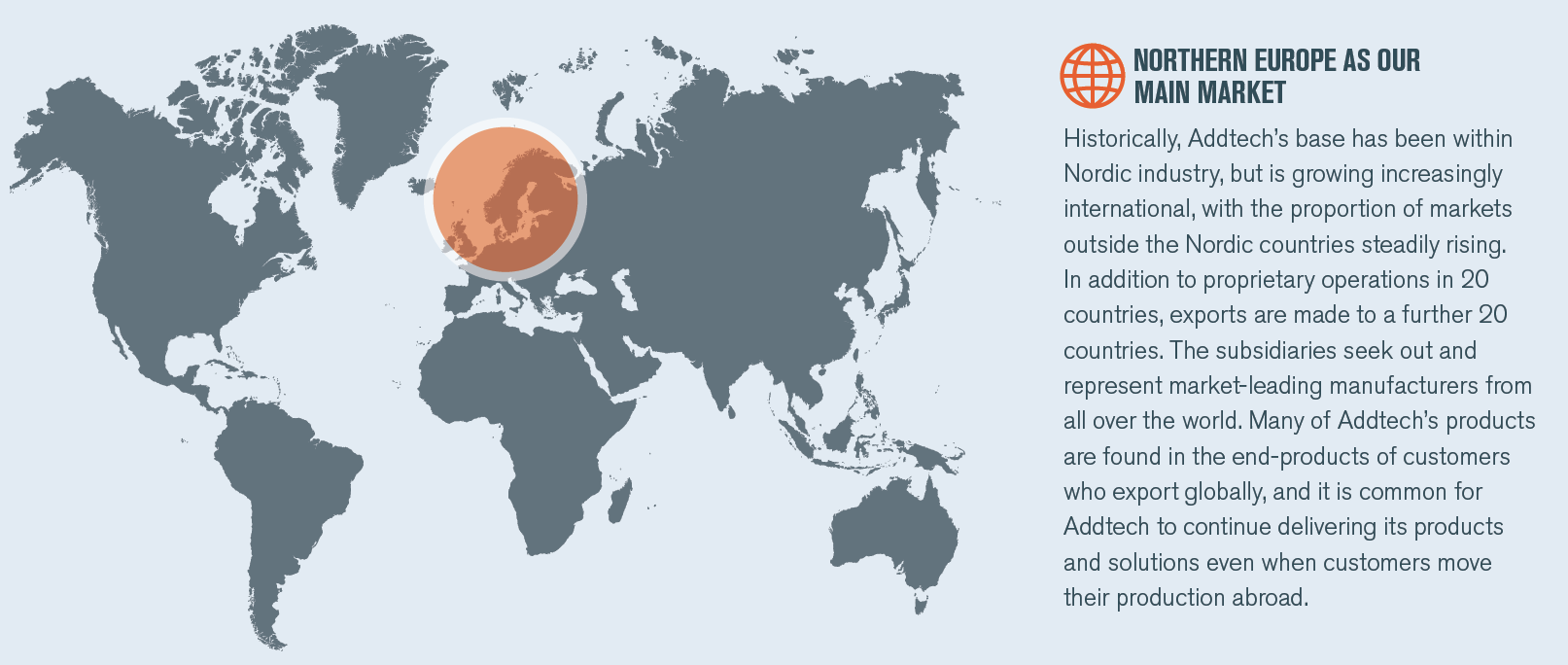 Northern Europe as our main market
Historically, Addtech's base has been within Nordic industry, but is growing increasingly international, with the proportion of markets outside the Nordic countries steadily rising. In addition to proprietary operations in 20 countries, exports are made to a further 20 countries. The subsidiaries seek out and represent market-leading manufacturers from all over the world. Many of Addtech's products are found in the end-products of customers who export globally, and it is common for Addtech to continue delivering its products and solutions even when customers move their production abroad.